Hey hey, from now on there will be a few changes implemented into Blushberry like so :
1. Daily Posts will be compacted into a single post for the day
2. Proper english and punctuation will be used when typing
That's all until we upgrade the blog when we hit a thousand visitors a day!
Please take a few minutes of your time to vote in the poll right to your left!
Right now, we are busy half promoting Blushberry, doing photoshoots and tutorials and also designing blogs as well.
Thank you all for your support all these while!!!
Today, we will show you how to apply makeup on yourself the Jennifer Lopez way!
To get her look, there is only one thing we should note :
1. Strong prominent facial bone structure
If you look carefully, her jaw and cheek bones is quite prominent. Her nose looks wonderful with a side lighting, it paints the shadows and highlights beautifully. So even when she has neutral makeup on, she still looks gorgeous due to her beautiful bone structure.
We would have to mimic this feature in order to look like her.
We did a video on the process, the video is only less than 2 minutes long. You get to see the whole transformation from plain Jane to Jennifer Lopez lookalike!
We start by applying the foundation on the skin. As we will be doing alot of contouring, we use MORE foundation and LESS concealer in order to prevent our face lines from cracking. So, use more foundation and go very light with the concealer.
After that, we shade in the brows. As I am Asian and I have black hair, I shaded my brows in a different shade compared to Jennifer's but if your hair is dyed brown, you should use light brown to shade your brows.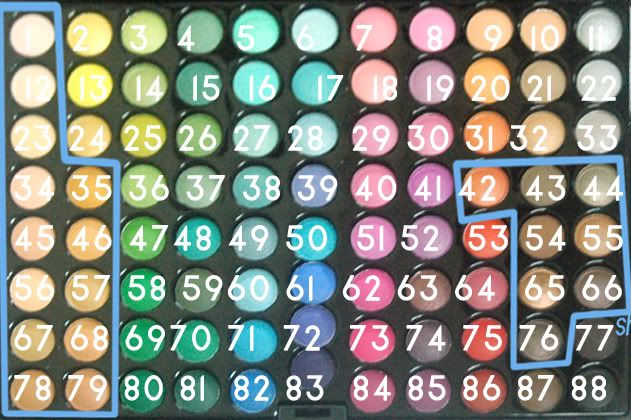 The whole makeup look is done using this pigment pallete, it is also used by Xsparkage in Youtube! You can get it from us for RM 80 only!
We start contouring with the highlights. We use shade 1 and 12 from the pallete on the brow bone, the inner corner of the eye and on the eye bag area. We finish off by shading the cheek bone and nose tip.
After that, we use a blusher brush and pick up the colours 42, 43, 44 and below.
We contoured the area below the cheekbone. ( We over do it so that its more obvious in the photo) We shaded the sides of the nose right up to the brow area. We finish off by using an angled brush to shade in the inner corner of the lower eyelids.
Now, we start the eye makeup. We use colour 1 for the first half of the inner eyelid and shade 66 for the outer eyelid. We blend them really well to get a smokey effect.
Just like Jennifer Lopez, we line the eyes with a liquid liner. The trick is to get a thin line on the upper and lower lashline first. After that, we thicken the line bit by bit, going thicker as we move to the (upper) outer lash line just like in the photo above.
This technique opens up your eyes and get rid of the sleepy eye look.
😀
We finish with the pigments by applying a little hint of blusher to the center of the cheeks.
After that, we apply mascara to the lashes.
Finally!
We stuck on lashes for both the upper and lower eyelids.
We use
Perfect Lashes and Lower Lashes from our Sales
.
After that, we fill in the lips with nude liner, carefully smudging away the lip borders which is darker in colour. After that we use a pale pink lip gloss for the lips!
Tada! All done!
My nose looks damn tall.. weeeee
and I even have slight dimples right below my cheek due to the contouring!
You can see the contouring better this angle. See how the countouring helps make the nose look thinner and higher? The highlights on the cheeks and the lowlights below it makes my cheek bone more pronounced.
During the
Keira Knightley
makeup look, people were like saying I photoshopped my way thru.. so this time I took the liberty to show my before and after in Photoshop.
What I did was :
1. Put in J Lo's hair.. my hair extensions are not thick enough..T_T
2. I used her flower too!
3. I brought the shoulder abit closer to the chin so that it resembles the J Lo photo more
4. I simulated the side lighting.. Once we get studio lights we won't have to simulate with photoshop anymore. Can't wait.
Final output. Click for a larger version! Oh, I darken the hair abit though, I don't really suit such a light colour.
Have fun trying ladies!!
Anyway, I need some help… I wanna further my studies in fashion design. Preferably an online course, if advisable. Is there any good fashion design institutes in Malaysia, Singapore or Thailand that I can go to?