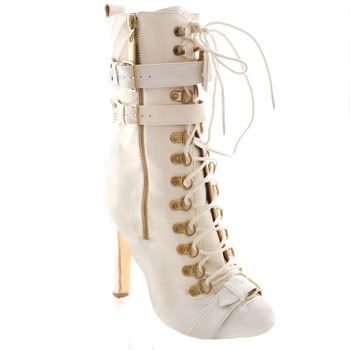 Recently, I bought a pair of Tatiana boots from Lacquer & Lace..
I mean who can resist.. it looks fantastic.. as seen in Sex in the City, worn by Sarah Jessica Parker.
I was so excited that I decided to review this item in BlushBerry!
I had a fun time trying all the different ways of tying the shoelaces at the upper part.. and I found that lacing them zig zag makes the boot tighter and it looks better too!
We even did a photoshoot.. -_-
I just love the boots so much you know.. haha
but just like in the photo, the actual item looks great (even though it differs abit from the actual branded item = zip design and sole colour)
but it still looks fantastic!
To be honest.. I am very short… around 160 cm i think..
I was abit worried that this boots will make legs look shorter than it already is.. but to my amazement it looks longer!
I swear I didn't elongate them in Photoshop!!
It is probably due to the extremely high heel.. which makes the shoe great for posing and dinners but not ideal for a shopping day out.
Well, all in all .. it is a great buy!
Tatiana Boots RM 109
Design = 5/5
Beauty Enhancement = 4/5 (makes our legs seem longer)
Easy Wear = 2/5 (needs time to lace and buckle up)
Comfort = 2/5 (not for long hours walking)
After doing this review.. we realized we love doing this!!!
So online boutiques.. dare to flaunt your products?
Send us your apparel/products and we will review them for FREE!
If you are generous, you can give it to us as a gift.. but otherwise, we can always mail the item back to you!

itsablushberry@gmail.com